So much going on lately.
Thought Id catch up a little here today while I am mulling over lots...and I mean LOTS...
that God is stirring in my heart.
So much to say.
but for today...we count. :)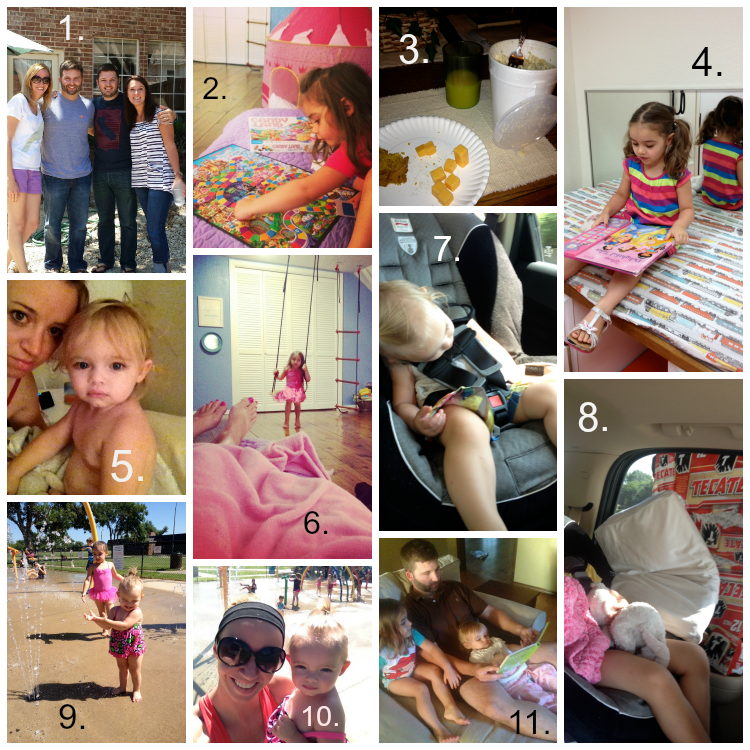 1. this past weekend we went home to Dallas, and got to be loved on and poured into by our spiritual family and close friends. So so needed in this season of our life.
We are so lucky to have them, and miss them tons.
(those are some of our closest friends, John and Cindy)
2. a random but fun pic of Abigail and I playing Candyland for the first time...
I felt like it was kindof a childhood milestone!
3. my mom always knows the best comfort foods for me when I need them.
You can't really tell, but here is Pumpkin Pound Cake, cheese bites, and my favorite pasta salad from a little place in Dallas. and yes, I am eating them all together at like midnight.
thanks, mom. :)
4. our brave girl waiting for her appointment at Scottish Rite.
This was a big deal and part of the reason we went to Dallas.
She has been "toe-walking" for a long time, so she was evaluated by the best specialists and they found no need for foot braces or surgery just yet, which is a huge praise!
Now we just pray that it will correct itself over time.
5. last week, before we went to Dallas, 3/4 of us got the tummy bug.
This is me and B in the middle of night 1 of her throwing up all night.
that was real fun.
But we all got over it really quick!
6. this was MY day of the tummy bug.
I basically laid in Abigail's room all day while they played.
I was so thankful for our combined playroom/bedroom!
7. an exhausted Bethany during our trip to Dallas.
She knows how to play hard on vacay. :)
8. this. THIS we call the "beer shade".
On the way to Dallas Abigail was crying from the sun in her eyes, but wouldn't let us roll her blanket up in the window...so my resourceful hubby pulled apart an empty beer box from the back of his car (it had been there from going to a golf game the day before),
and used it as a window shade.
ghett. o.
but hey, it worked.
9. back to norman = heat = splash pad!
10. soaking in some rays at the splash pad.
11. nice to be back home and read books with Dada before bedtime.
I love these three with all my heart.
- - - - - - - - - -
Hope y'all have a good day today...
Guess what? Friday is our 10 year anniversary!
that's right, TEN years.
and yes, I did get married young! (everyone always says that, ha)
I'll be posting a, well, different kind of anniversary post that day,
I'd love for you to come back for it to hear my heart about marriage.
Y'all have a great rest of the week!