Hey so yall know how I've been talking about Paleo and Whole30 lately
and about how incredible it is?
Well, I'm back to share some more!
But first, I have to applaud so many of you who have started eating this way since I shared my personal story...I have been so blessed and pumped by all the emails and messages I have gotten about several of yall who have already started into this journey!!
(I am still getting back to everyone so if I owe you a response, it is coming!)
I have another awwwwesome Whole30 recipe to share with yall!
But to kick it off today,
I am so excited to share my sister Danielle's "testimonial" about how eating Paleo and Whole30 has changed her life!
Danielle is the main reason and encouragement for us to start all this...
Thanks Danielle, I owe you so much!!
- - - - - - - - - - - - - - -
Hi! I'm Sarah's younger sister, Danielle. I first started the transition to paleo in February 2011 with 100%
commitment in January 2012. Yes, it actually did take 11 months for me to realize that I wanted this not
just for my life-right-now but for my whole life.
(helping Danielle get ready for her wedding last August!)
My initial dabbing into paleo consisted of meals of steamed broccoli and baked chicken, green beans
and pork chops, or salad with vinegar and oil. Not very satisfying and probably why I had a hard time
committing at first. It was boring and I still wanted my Firehouse Subs or Which Wich. Once I took the
time to really understand what all I could eat – and partly let go of conventional ideas of what "healthy"
was I learned just how versatile paleo could be. It wasn't nearly as restrictive as I thought. In fact, there
are so many methods of cooking and ingredients to use that I never even considered!
(Danielle back squatting 135# at Crossfit!!)
I learned that I can regularly sauté my veggies and meat in yummy bacon grease, indulge in fatty
avocados, sweet potatoes, delicious sweet seasonal fruit, a plethora of nuts, and hearty grass-fed butter.
Yes, I said butter! By the way, if you've never had it tastes a hundred times better than that overly-
processed, butter-like-substance, I Can't Believe It's Not Butter.
I spent time looking through hundreds of recipes and figuring out what worked best for me and my
family. These days dinner consists usually of some kind of meat, one or two sides of veggies, and
occasionally a starch – sweet potato or plantains. Since the hubs and I both work the 9-to-5 grind, lunch
is almost always left-overs. When I buy chicken, we eat the skin. Grass-fed steaks – get them full of
delicious fat. And since we don't spend money on cereal, bread, candy, Little Debbie treats, we use that
money to treat ourselves weekly to racks of ribs or roasts or brisket.
I know it sounds ludicrous, but I'll tell you – both my husband and I are healthier than we've ever been.
As Sarah mentioned in a previous post, my husband lost 30 pounds in 30 days during our first Whole30 in
April 2012. And he did it by eating meat, veggies, fruit, and healthy fats.
A few other changes that a paleo lifestyle has brought about:
I no longer have break-outs
I wake up in the morning completely rested and full of energy
My body uses fat for energy and not sugar, so if I miss a meal I do not go starving. For this reason
I also don't snack anymore.
I have not been sick in over a year – not a cold, not allergies, no aches, pains, or migraines.
And the number one benefit I have experienced? Inadvertently helping people.
Now I don't walk around saying, "Look how healthy my lunch is!" But when people see what I order at
a restaurant (spaghetti and meatballs, hold the spaghetti), or pass-on at the family dinners (no bun for my
burger, please), people tend to ask. And I love to share because I am true believer in this lifestyle.
Now, I don't want you to think I'm perfect. We are not even close paleo-perfect. I truly believe that is
not the point to this. In fact, the hubs and I went and had frozen custard just last night – hot fudge and
all. But to me, that's the main difference between a diet and a lifestyle. With a diet, I'd probably consider
the day ruined and grab some donuts on the way to work the next day. But because this is our lifestyle, I
allow myself the occasional indulgence, thoroughly enjoy my favorite custard shop, and wake up the next
morning to a breakfast of pastured eggs, nitrate-free bacon and homemade fermented sauerkraut.
(Danielle and her hubbs Ryan after a hard workout!)
If you are at all curious about this lifestyle, I encourage you do try the Whole30. But please don't do it for
weight loss. Do it for your health. Do it to test your willpower and to be a positive testament to all those
around you that no, it's really not that hard to pass on the dinner rolls. I promise you – as in most things in
life – the benefits will highly outweigh the sacrifice.
THANKS Danielle!!!!!
- - - - - - - - - - - - - - - -
Here comes a fantastic recipe that has become a fav around our house...
Sausage Apple Hash!
Sausage link (beef, turkey or chicken - i use beef)
olive oil
sweet potato
red apple (Braeburn is good)
thyme
basil
*recipe also calls to add onion and green peppers but we don't like those!
then cook the potatoes long enough until you can barely pierce with a fork.
If you have not cooked it yet, then brown it in a skillet while the potatoes are cooking.
Toss together and cook until the apple and potatoes are tender.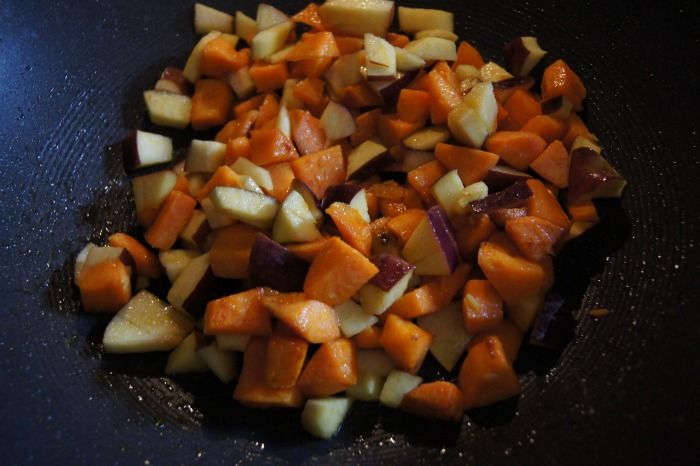 Add your thyme and basil.
Serve warm and enjoy this DELISH Whole30 meal!!!!
and don't forget - this button is over on my sidebar, you can click on it to scroll through all my posts and recipes about all this!!