So I first need to say that I am blown away and so encouraged by so many responses to
about starting to share more of the deep things in my heart and about my testimony...
I plan to share one of my stories with y'all on Friday.
Still praying about what I will share, but I know He will lead me.
Thanks y'all...I'm still trying to reply all the emails and comments so bear with me...you have blessed me a lot with your interest in hearing some of the deeper things I want to blog about, and even sharing some personal things with me. Please know that I take them to heart.
love y'all. :)
But right now I am excited to share another story with you about the way God has spoken to others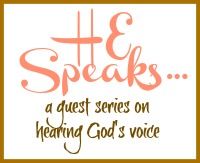 (click on this button to see other posts)
- - - - - - - - - -
Hearing God: Being Available, Open, and Obedient


I grew up in a Christian household where prayer, study, and conversing with God were normal and expected. My parents both have told me stories of times they heard, very clearly and firmly, messages from God that caused them to make a significant change in their life. I was taught to pray and ask questions, expecting God to answer. In my experience he does: when you are available, open and obedient.
I have heard from God at numerous times throughout my life, but never in an audible voice, or even a whisper. Usually a thought or phrase, often scripture, will pop into my head as I'm praying. I am a musician at heart, and have always been very inspired and influenced by music. Most often I hear from God through songs, where lyrics I'd previously ignored are suddenly pressed upon my heart. In all cases, receiving a message brings with it an overwhelming sense of peace.
When I was a senior in High School, I had no idea what I wanted to do with my life. I prayed very consistently, asking God to show me the best path for my life. Through routine prayer, I had fostered an open heart and was very willing to go anywhere God called me. I asked God to only open the door I was supposed to walk through and keep the others closed. I received a few college rejections in the mail, and then my first acceptance came. I knew it is exactly where I was supposed to go... I was called to military school, The United States Naval Academy. I had no idea what I was getting myself into, but went anyway.
For the first two year, I could have left and transferred to another school without any additional commitment. The weekend before classes started our junior year, we had to sign papers committing to 5 years of active duty service in exchange for completing the last 2 years of college. At that point, I wasn't sure military life was the right thing for me. I enjoyed the challenge and had great professors. But I couldn't imagine spending 5 years driving a boat. Again I prayed and received a clear message to stay. I signed the papers and started my classes. Then doubt crept in.
My junior year was the hardest academically, and I spent several months sick with a mono-like illness that never was diagnosed. I was physically and emotionally exhausted for most of the year. In addition to the normal stress of college, I felt a strong sense that I wasn't supposed to spend my life in the military. It's not really a good idea while attending military school to tell people you don't actually want to be in the military. I kept most of my struggle to myself, and that made this year of my life much harder than it needed to be. So why was I in military school? I wrestled with God and became unwilling to surrender to any guidance. I continued to be available through prayer and open to messages from God, but was horribly disobedient. I didn't want to follow on faith; I wanted to know the plan. I was aware of my attitude toward God. I like to imagine God just sitting in the corner of my dorm room watching me throw a tantrum like a little kid; waiting for me to finish so we could have a real conversation about my future. When I finally swallowed my pride, repented, and approached God with a true willingness to be obedient, I received a great peace. My illness went away. I didn't receive the answers I wanted, but knew the plan was in place. I just had to be patient. A few weeks later, I saw the first piece in the plan, an option to transfer from the Navy to the Air Force. Upon graduation, I commissioned in the Air Force.
After 2 years of active duty in a job I wasn't thrilled with, I had an opportunity to separate from the military early. The Air Force had too many officers, and needed to make cuts. They were taking volunteers. Within about 3 months of deciding to separate, submitting my paperwork, and applying for a new job, I found myself teaching high school chemistry. That was God's plan for me all along. I needed the education, training, and experience from my 6 years in the military to grow up and develop the skills I used in the classroom. I absolutely loved teaching! I only taught one year before moving across the country with my husband and becoming a mom. Right now I'm called to stay home with my boys, but I know the plan is to return to high school teaching in several years.
As I prepared to write this and reflected back 12 years (wow, that makes me feel really old) recognizing where I was in my relationship with God, I realized several things. I'm more willing to be obedient to God's direction now than I was when I entered the military. I'm more open and aware of God's "voice" and how he is working in my life and the lives of those around me. But lately, I haven't been even remotely available to him. My short popcorn prayers throughout the day are not enough.
I've been convicted and recommitted myself to daily quiet time with God
. I humbly await the quiet moments, prepared to listen.
……….
Becky Marie is a stay at home mom to two little boys and is expecting a third baby this fall. She blogs about homeschooling, homemaking, dairy free living, family and faith at
forthisseason.com
.
- - - - - - - - - -
Thanks so much friend!!
go meet Becky Marie:
she blogs
here
, and tweets
here
Another sweet friend will be sharing her story about how God has spoken to her...
that will posted on Thursday afternoon!
I have been so blessed to hear and share other people's hearts.
Y'all rock.