Good Morning!
My dear friend Sarah (great name, right?) :) has agreed to "guest post" here every other Sunday
just sharing her thoughts about becoming a woman of God.
She is a woman, wife, and mama full of wisdom and love, so I'm honored for her to share her words with us...
- - - - - - - - - - - - - - -
"So I run with purpose in every step. I am not just shadowboxing. I discipline my body like an athlete, training it to do what it should."
A couple of years ago, two friends and I went to run the Dallas Race for the Cure. I was pumped. I had always wanted to run in races and this was my first step. Knowing nothing about racing I assumed that they were all the same. You line up, they start the race, and you run. Stupid, stupid assumptions. My two friends that ran with me were hesitant at best and only their undying love for me got them up at the ungodly hour of 5am to join me. Imagine their delight when we discovered that we would not be running but merely strolling through Dallas with 250,000 other people. I was livid. I had come to run a race not have a chatty stroll behind a herd of people!! I will leave the rest to your imagination but let me assure you I did try to run. I almost took out a few baby strollers and recovering cancer patients in the process, but try I did.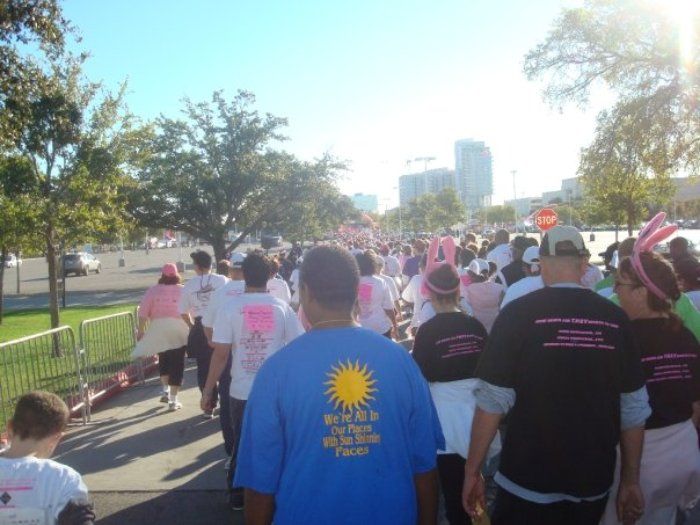 Joking aside there is a point to make. We need to run the right race.
If we are women of faith, we need to recognize there is a race laid out before us. This race has a rich history in humanity and there have been many incredible men and women who have traveled it before us. Men and women who had such incredible faith in God that they did unthinkable things.
They go before us and they root us on.
In a day and time where finding good advice for marriage and parenting is an overwhelming avalanche of opinion, we need to align our lives up with the Word of God. We need to be very careful what opinions and ideas we are allowing to guide us.
This thought keeps pounding through my heart lately: if you took away my church attendance, my Facebook postings of favorite verses, and even my faith filled words on a blog, would someone who has never met me know that I loved God?
God, in all his amazing power, holds the world in his hand and yet sees you. He sees you and he loves you. He loves you with an engulfing, freeing love that is hard to fathom. He has a race set out for you. This race is at times exhilarating and at times difficult. It often goes against human understanding.
However, I am so thankful for the peace and joy in my life, that I keep running. And I want you to know that there is a precious gift of peace and joy waiting for you.
Come, run with me.
- - - - - - - - - - - - - - -
Thanks Sarah.
And that so speaks to my heart behind this blog, and the name of this blog...
Hebrews 12:1, which talks about running this race, remembering those who have gone before us, and keeping our eyes on Jesus, who is the author of our faith.
I love that we get to run this race together, sister.