I am so pumped to share something with yall.
Especially because it's in my hometown, Dallas!
(which means all you Dallas friends better come!)
HOPE SPOKEN
March 28-30, 2014
tickets are on sale now!!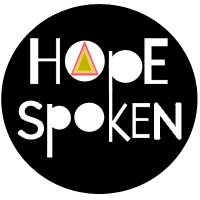 (you can click on this button to go to the site)
I am honored to have been asked to be a part of this,
and cannot wait to see what the Lord does.
AHHH! it's gonna be incredible I just know it. :)
here's more about the heart behind it all...
H O P E S P O K E N 2 0 1 4
Hope Spoken is a women's conference where we all can come to know Jesus more, and make Him known in our lives. Our conference will be filled with stories. Stories of Christ in each of our lives, and how we can use these stories for His glory. This is a weekend to rest and feel His love, to lay burdens and hurts down and feel His grace. We want to let women know that they are enough, to encourage women to use their passions, their words, and their creativity for the Lord. We, above all else, want to glorify Jesus' name and share the hope we have in Him.
Therefore, since we have been justified through faith, we have peace with God through our Lord Jesus Christ, through whom we have gained access by faith into this grace in which we now stand. And we boast in the hope of the glory of God. Not only so, but we also glory in our sufferings, because we know that suffering produces perseverance; perseverance, character; and character, hope. And hope does not put us to shame, because God's love has been poured out into our hearts through the Holy Spirit, who has been given to us. // Romans 5:1-5
And I want you to know...the speakers and going to be amazing.
this conference is in no way just for bloggers.
it is not about blogging at all.
And how God shows up in all of them.
So please, consider coming, no matter where you are.
It will be life-changing.