I have never written about this before, here or anywhere.
But I really felt like I needed to.
Thanks for listening, and for understanding my all-over-the-place emotion throughout this post. Though I see God in it all, it still stings a lot.
*and I will leave a ton of details out here I'm sure, but just bare with me*
- - - - - - - - - -
"...that phone call you never want to get..."
On September 15th, three years ago, Parker and I were taking an afternoon nap, and his mom called both our phones, finally waking us up. She told us we needed to get to the hospital immediately, that she had received a phone call about his dad. None of us had any clue what had happened, we were just told to come.
(I still get anxious if a phone call comes if we are ever napping)
We got there, headed to the ICU, all with nervous knots in our stomachs.
We honestly thought that Steve had fallen and hit his head or something...he was a storm insurance adjuster and walked on roofs all day.
We walked in and were stopped by a few doctors.
In what seemed like such a blurry conversation, they explained to us that he had collapsed as he was walking out
of a doctors appointment earlier that day.
They explained some more details about the events and what they thought led up to his collapse (Ill share that in a minute).
But I don't know if any of us were really taking it in.
I remember not really listening but trying to peek into the curtain that was separating us from him, to see if I could look at Steve, and maybe get his attention to let him know we were there now, and that it would be okay.
It was not okay.
And if you are not in a place to read about death, then please don't go on.
I am just journaling the reality of our loss here...and the hope that we have in the midst of it.
We walked into his little room, and saw him attached to all kinds of tubes and machines.
I think we all knew pretty quickly that he was no longer with us.
That the abnormal movements and noises his body was making were only from the machines working to keep his physical body alive.
I used to work with severely ill children, and had several patients in comas.
So I had a little twinge of hope that he was still alive inside, because of some crazy stories I had witnessed.
But I think in my heart, I knew He was already with Jesus.
The next thing I remember was seeing my parents come through the ICU doors.
I was so comforted by their presence.
I had called them on our way to the hospital, and told them to stay put until I knew more.
But I'm glad they didn't listen. I needed them there.
(I am thankful for my mom listening to her mother's intuition.)
They came into the room with us and began to understand what was happening.
I remember my dad starting to cry, and that's when I lost it.
(I am very blessed that my parents and my in-laws have always been close. This is us about 2 weeks after we got married and moved to Oklahoma for the first time.
Ironically 9 years later, we now live just down the road from this restaurant.)
I'm sure you might be wondering what happened.
Basically, Steve went in for a pretty typical appointment to get a cortisone shot for some arthritis in a joint. Sometimes when they do these shots, they also inject some sort of dye so that the radiologist can see it through ex-ray to make sure it is going in correctly.
They believe Steve had a very very rare allergic reaction to that dye.
He collapsed within about an hour of receiving it.
The fact that this is such a rare occurrence actually gave us peace that this was clearly the Lord's timing for Steve to go.
Some more doctors came in and out.
Several hours went by, more tests were ordered.
I took it on as my responsibility to make some very hard phone calls to all the family and friends.
It was terrible to explain this to Steve's family, but God literally gave me supernatural grace to do it and to be strong.
Several family and friends came up to the hospital to be with us.
We had some of the most amazing prayer time I have ever been a part of,
in a tiny waiting room.
Our friends were incredible and strong for us in those moments.
Then it was explained to us that the most recent test showed no brain or heart activity, and that basically we were just waiting to stop the mechanical life that was being given to him.
Obviously, that is not something that anyone wants to be told...that basically they were just waiting for us to say when.
Though we were all in complete peace that Steve had already gone Home, I remember just thinking, oh my gosh how can we do this?!
Then God's mercy stepped in.
A few minutes after we told the doctor that it was time and it was okay,
one of the nurses came in quickly.
He had been monitoring the machines from the nurses station.
He informed us so gently that there was no need to stop machines.
That Steve's heart had just stopped on its own.
The physical part was over.
I truly believe that it was God's perfect love for us that He did not make us "stop machines" or anything like that. I remain thankful for that detail in this story.
My mother in law, Jan, and I walked out ahead of Parker.
It is one of the weirdest feelings in the world to walk out of a hospital knowing you will never see someone again. (until Heaven)
One image of the night is still crisp and clear in my head.
I remember waiting for Parker to have his last moments with his father.
Then I remember the large double doors from the ICU opening and Parker walking out, being held up on either side by two friends...on one side, Hollis, who led him to the Lord when he was young, and the other, Eric, one of Parker's closest brothers in the Lord and best friend.
It is awful to see your husband crumble in grief.
As you can imagine the next few days were a blur, and I am leaving out a million details, but if you have ever prepared a funeral before for a close family member, you know how draining it all can be, physically and emotionally.
- - - - - - - - - -
But I want to say, I HAVE to say,
a few things about God's goodness in this awful story.
And yes, even in loss, God is still good.
I pray that if you need to feel that and know that right now, that He would show you.
And I also feel led to say thank you to a few people here, who were vital to us in those terrible moments and days that followed.
First of all, we know beyond a doubt, that Steve is free with his Father in Heaven now.
It is a breath of fresh air to think about the joy he is experiencing now.
(this is our friend Mark baptizing Steve about 10 years ago. Mark also spoke at the funeral)
The night before Steve died, Parker woke me up, thinking that he had heard his dad say his name.
We literally looked around to make sure it was just a dream.
We now believe that was the Lord allowing Parker to think about and pray for his dad.
Steve worked/lived out of town most of the time, but he happened to be in the area, just down the road from us, when this happened. And because he had been in town for a few weeks, he and Parker had hung out the Saturday before, which was rare because of Steve's travels.
I was almost 7 months pregnant with Abigail when this happened.
Though I still wrestle and grieve over the terrible timing, we also are so thankful that Steve knew she was coming,
and knew what her name would be.
He bought her baby crib 2 weeks before he died, a total surprise to me.
And he even gave us a stuffed animal for her, which we obviously treasure dearly now.
And speaking of names, Bethany has Steve's middle name, Len.
The radiologist who was with Steve during all this, stayed with us through every moment.
He came to the service, He has called and checked in with Parker in the years since.
They have even gone to get a beer together before.
God just knit our hearts with his.
That night this all happened, this precious doctor communicated with us so well, sat with us, and cried with us. He was such a comfort to us, more than he will ever know.
Thank you so much Dr., if you happen to read this.
We are incredibly blessed by your compassion for our family.
Parker's friend Eric was celebrating his birthday that night with his wife and 4 kids.
But when he got the call, he made the trip up to be with Parker.
He was amazing.
And he did one of the most amazing friend gestures I have ever witnessed:
He drove Steve's truck home for us, so that Parker wouldn't have to.
I am weeping now as I write that out.
What an amazing brother we have in you, Eric. We love you so much.
You epitomize what it means to be there for your friends.
Another great friend of ours, Jeremy, heard what happened, and got on a plane from Georgia to be with Parker. He was (and still is) a rock for us, and for Parker.
He was that kind of friend who just showed up, and didn't need to say a whole lot, but his presence was beyond comforting.
I remember him showing up the next morning with coffee and bagels for everyone after what had been a very very long night.
That simple act will always stick in my mind as such an act of selfless compassion.
Thank you Jeremy, we love you so much. I am so thankful for you.
Another family that I will forever feel grateful for is the Stouts.
Barbara, you cared for us so well.
You, Randy, and Jami were such rocks for us and helped us along the way and with all the practical stuff that you don't have any clue how to do unless you have been there.
You were so helpful to us, though I'm sure it brought back memories of losing Ryan.
I know it seems silly, but I will always remember that you showed up and brought us paper towels, kleenex, and paper plates so we wouldn't have to do dishes for all the food that was being given. You thought of it all.
Those small gestures will always be huge in my heart.
We are so blessed and will always consider you family.
One more incredibly crazy story that goes along with all this.
I can't not share it...
9 days before Steve died, some of our best friends, John and Cindy, were visiting from Houston and staying at our house. We had all gone to a friend's wedding that Saturday night.
Sunday morning, Sept 6th, We had been hanging out and praying with John and Cindy.
John walked back to our guest bedroom to answer a phone call.
It was a family member calling to tell him his dad had died suddenly that morning.
He literally crumpled into Parker's arms while all of us started weeping.
We helped them get to the hospital and stayed with their family all day.
We had NO idea we would literally be going through the same thing just 9 days later.
Our hearts were already knitted closely with these friends, but now we share this too.
And to speak to the greatness of John and Cindy,
they, and their whole family, came to Steve's funeral, 9 days after losing their own father.
Thank you John and Cindy, you are incredible faithful friends.
In addition to all that our family did...
I also have to mention that we had a core of friends and spiritual family surround us, cook for us, provide money for us when we were in need, pray with us, and just BE with us during this time.
We still look back and cannot believe the power of community that surrounded us during the hardest days of our lives so far.
Thank you Joe, Kim, Melissa, Kyle, Jason, Ally, Nicolle, Mike, Hollis, Mark, Clay, Natalie, David, Heather, Michael (it was also his birthday and he came to be with us), and Nicole.
You blessed us more than you will ever realize.
Even three years later, I am so grateful for you being there for us.
Thank you all.
- - - - - - - - - -
(at our wedding blessing shower 10 years ago)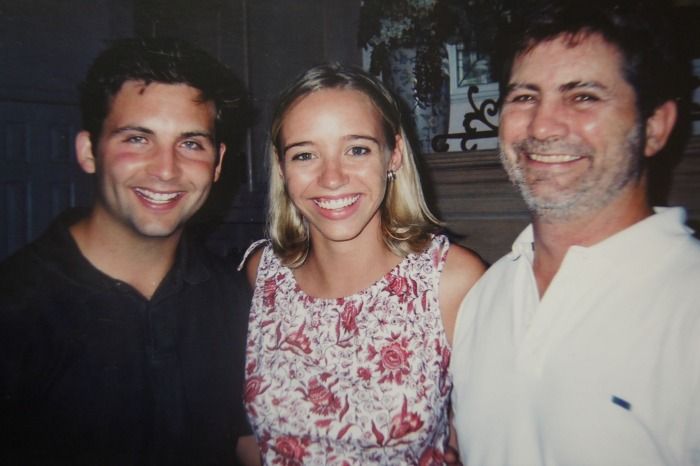 Steve.
Steve was a loving, loving man. He cared deeply about people.
He made me feel like I was his own daughter.
I was so blessed to know him for the 7 years I did.
Just about every time I saw him, he told me how proud he was of me...
that always meant a lot to me.
He loved Parker's mom well, and respected her immensely.
He inquired a lot about the Lord.
He looked to Parker for teaching and counsel on the things of God, which Parker gladly gave.
One of my favorite things about Steve is that he called Parker "Son", and would say
"I love you, son" a lot.
Steve was so so proud to be becoming "Grandad", and apparently had told all his coworkers about Abigail's expected arrival.
He was a great musician and loved that culture.
He cared deeply for friends who were going through rough times.
He gave to us when we were in need.
He went through lots of rough season in life, but met God in it.
He trusted the Lord with his life.
He is FREE beyond free as I write this.
He is playing music with his best friend, Ray. He is visiting with his parents. He is wondering why his mother in law got there a few weeks ago, but maybe enjoying some Thanksgiving-type food with her. He is playing with our little one, his grandbaby, that lives in Heaven.
He is communing and breaking bread with Jesus every day. Every day!
Can you even imagine?
He is so blessed right now.
(his best friend and Parker's godfather, Ray..who went Home as well about a year ago.)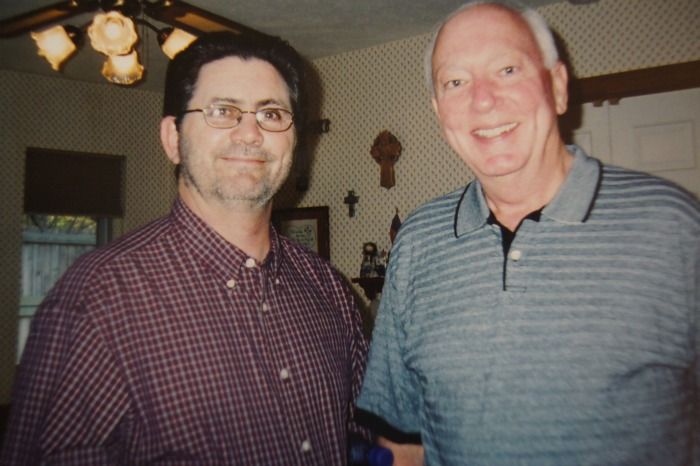 And I am so blessed to have known him.
(we will always have this bench to go to at the cemetery to remember and reflect.)
John 14:1-4
"Do not let your hearts be troubled. Trust in God; trust also in me. In my Father's house are many rooms; if it were not so, I would have told you. I am going there to prepare a place for you. And if I go and prepare a place for you, I will come back and take you to be with me that you also may be where I am. You know the way to the place where I am going."