So glad to be sharing another beautiful heart with you in my little series about
hearing God, and about how God speaks to different people.
Today you get to hear from s good friend of mine,
Kara
.
She's basically amazing. :)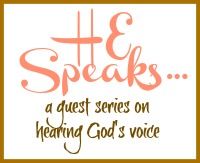 - - - - - - - - - - - - - - -
..."God in community"...

hi, I'm kara. wife to marc. momma to nolan fox age 13 months. coffee lover. blogger.
follower of Jesus.
and on instagram @karamurano
I have been a follower of Jesus since about 3rd grade. I grew up very involved in a non-denominational church here in CA. growing up in the church I heard the phrase "god speaking" a lot and to be completely honest, had no idea what it meant. another area which I always struggled to understand was the idea of God's will for my life. how could I get Him to speak to me and find out what His will was for me?! one way that God has used to speak into my life is my quiet time, prayer & through His word.
for most of my life I thought these were the only ways to hear from God.
it wasn't until a couple of years ago around the time we were leaving our former church, that I realized that God had been and was using community to speak to me & help me discern His will. previously I had seen my relationship with God as something private & personal which of course it is, but I was leaving out a huge part of life...Christ-centered relationships.
we joined our current faith community last february and one of our pastors said something that has always stuck with me:
"God not only binds us to Himself, but binds us to one another"
to me this meant that God not only calls me into relationship with Him but calls me into relationship with others.
if He can speak to me Himself then surely He could use others to speak His will & His truth into my life.
as I looked back I could see how God to spoke to me through my parents, mentors and even peers. I began to see how God had used and was using my husband to speak God into my life. God used my friends who were church planting to show me new ideas of what church actually is and what it looks like in a practical way.
God used my community group to reveal new truths about His character.
I notice that God often uses my son to show me my strengths and weaknesses.
as I began to focus on my oikos (friends & family that surround me) instead of myself,
I saw ways that I could speak God's truth into the lives of others around me.
our God wants us to learn from one another and grow together.
we were made to do life together, as a community.
today I am thankful for a God who doesn't want us to figure out life alone.
sweet Sarah, thank you for having me on this sweet blog of yours. thankful for your friendship and the ways that God uses your words to speak into to my life.
- - - - - - - - - -
Thanks Kara. I love you!!!
I totally agree with all that Kara just shared. I see clearly how He has used community to speak into my life...especially more in recent years than ever before.
Community is an ever-important thing in life, and people that know Jesus or not would agree.
I am so thankful that this blogging world has ADDED to the community in my life.
love you all...be blessed today!!